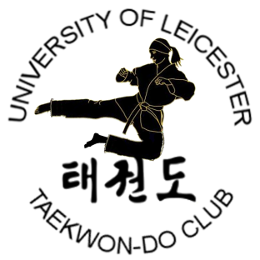 University of Leicester Taekwon-Do Club
THE CLUB

---

ABOUT ULTKD
We are a sports club affiliated to the University of Leicester Student's Union Sports Association. Membership is open to current students and staff of the University, and to graduates holding associate membership.
ULTKD is a large and friendly club, with an active membership covering all grades from complete beginner to black belt, and at levels of enthusiasm ranging from members who attend occasional training sessions and socials, through to the hardcore individuals who train daily to hone mind and body into the perfect fighting machine. Well, something like that, anyway...
ULTKD primarily practices Ch'ang hon (ITF style) Taekwon-Do, although we have a small but perfectly formed Kukkiwon (WTF) contingent, as well as members who have trained in a variety of other styles, and we welcome practitioners of Korean or other martial arts regardless of the style. We teach sparring, patterns, destruction and self-defence, and as a side effect of training you will also develop your fitness, flexibility, self-confidence, mental alertness and reflexes.
---