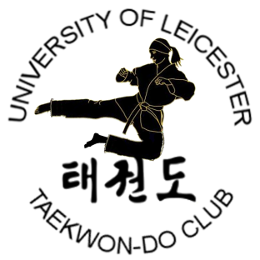 University of Leicester Taekwon-Do Club
ULTKD CODE OF PRACTICE

---
Our aim is to make Taekwon-Do enjoyable and safe at the same time. The code of practice set out below is to ensure this.
Sparring
Taekwon-Do is a martial art and a degree of physical contact is necessary in order to participate fully.
The instructor or a senior member must supervise all sparring.
Members must bear in mind that sparring can be dangerous and must exercise control when executing attacks and blocks. Any excessive force will result in a reprimand and may lead to expulsion from the club.
When sparring, protection must be used on the head, hands and feet of the participants. Groin guards and shin pads are highly recommended. Gum shields and chest protectors are also useful.

Safety
Every club session must start with warming up and stretching to prevent injury. Anyone arriving late must warm up and stretch on their own before taking part.
No one may train whilst ill or incapacitated without prior consultation with the instructor.
All reasonable orders from the instructor must be obeyed.
No jewellery or watches may be worn during club sessions.
Any accidents or injuries must be reported immediately to the instructor and/or a committee member.
The Club Captain is responsible for ensuring that a first aid kit is available for training sessions.

Equipment
We use a variety of equipment in addition to sparring gear. Focus pads, kick shields, breaking boards and the holder must not be used without supervision from the instructor, or an appointed senior member.
All members must have a University Sportscard, and a current valid licence and insurance which are obtained through the Committee.

---
ULSU Sports Association Clubs Code of Practice
The ULSU Sports Association Clubs Code of Practice contains more information, including details on the grievance procedure; for full detail, see the link here, or download the full Code of Practice document.