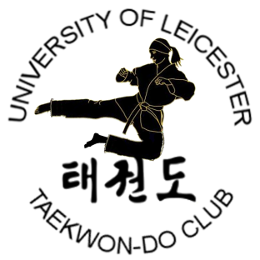 University of Leicester Taekwon-Do Club
ETIQUETTE
(
Ye Jol

)

---
"A high degree of etiquette should be observed by students, both inside and outside the dojang. This should be applied by lower ranking students to senior students while training, by higher ranking students to elder students outside of the dojang, and by all students when visiting another dojang. In all cases, emphasis should be placed on correct and proper salutation. It is a form of respect and courtesy in Western as well as Oriental societies."General Choi Hong Hi
---
Protocol
|
Bowing
|
Interacting with Seniors
|
Dining
|
Greeting & Departing
|
Uniform & Belt
---
Protocol refers to the rules or guidelines we follow to show respect for other people and for our selves. Protocol is based on thousands of years of traditions and philosophy; it is the actions of treating our seniors with respect, using good manners and common courtesy. It is the "Do" in Taekwon-Do. Protocol should be followed at all times, not only when it is convenient or necessary. We should behave the same in private as we do in public; demonstrating discipline, integrity and respect. Protocol is not only for juniors to show to seniors. Seniors should lead and teach by example, showing the appropriate protocol and respect to juniors as well.
Many practitioners practice excellent protocol at competitions or seminars, yet not anywhere else.Some think that it is not important; as long as they are not in class or wearing a dobok, they do not need to follow protocol. This is not correct. We do not change how we behave, just because we change our clothes. We are always practitioners of Taekwon-Do, an oriental martial art, and should behave according to our Tenets and Protocol.
Practicing Taekwon-Do can develop lifelong benefits. Perhaps the most beneficial is the discipline, self control and respect that we earn by following Protocol.
---
To show respect for their seniors, juniors follow the rules of protocol that give seniors precedence at all times.
Seniors accept the gestures of respect from their juniors with humility, recognizing that they were once juniors and that they were only able to reach their present rank with the help of their own seniors.
Protocol requires that juniors bow to their seniors when they meet. Bowing is always initiated by the junior, and the senior bows in return. When greeting his senior, a junior must bow, unless the senior indicates that he prefers to shake hands.
Some more examples:
A junior must bow to his senior before speaking to him.
A junior must never interrupt his senior while the latter is speaking.
In the presence of his senior, a junior sits only when invited to do so.
A junior never remains seated if his senior is standing.
A junior always walks behind or beside his senior, never in front of him.
When an individual is speaking to a group, protocol requires that everyone listen. The only exception would be when someone is acting as an interpreter for an individual who does not understand the language being spoken.
---
References:
Protocol
|
Bowing
|
Interacting with Seniors
|
Dining
|
Greeting & Departing
|
Uniform & Belt
---
Bowing is a very traditional way of showing respect, self control and discipline in the martial arts. Bowing is not an indication of complete submission; It is a sign of mutual respect. It comes from the heart, and is done out of honour and respect, not out of necessity or obligation. Bowing takes time to do correctly; if we are in a rush when we bow, then we are only doing it because we should, and not because we truly mean it. Taking the time to stop, bow correctly and slowly, and then rise up into our greeting or conversation, shows that we sincerely mean and feel the respect we are giving.
A bow can be used for different purposes. For example, it may be a greeting or an indication that a junior would like to speak to his senior. A bow can mean "thank you" or "I understand". In training, before starting free sparring or step sparring or other practices involving two or more people, those involved bow to each other. When finished, they bow again.
Like all things in Taekwon-Do, there is a correct way to bow:
Stop moving and put down anything you are carrying; the hands must be empty
Stand up tall, with the heels together and the toes turned out 45° to form a V-shape with the feet
Arms should be straight and slightly extended by about 30° at the sides
Hands should be closed with the palms facing downwards at a 45° angle
Bow forward from the waist (not the neck) to an angle of 15°
Bowing from the neck only is considered impolite; a proper bow requires time
Keep the head up and always look the other person in the eyes when bowing
If bowing to a person (not to an inanimate object such as the ITF flag), say "

Taekwon

"
Juniors should begin their bow first
The greater the difference in age or rank, the deeper the bow
Juniors should hold their bow until the senior has returned upright
The longer we hold our bow, the more respect we show
Always bow before and after addressing a senior
Always bow before entering or upon leaving a dojang
When a senior walks into the room or passes by you, take the time to turn, acknowledge their presence and bow
If you are seated and a senior walks by or towards you, stand up and bow; it is considered impolite to remain seated
Always remove your hat before bowing
Protocol
|
Bowing
|
Interacting with Seniors
|
Dining
|
Greeting & Departing
|
Uniform & Belt
---
Protocol helps us all treat each other with respect and courtesy. It is especially important when we interact with seniors outside of the dojang. By following proper protocol when in public we are setting an example for everyone. Many people will see the respectful actions and think of us with a similar respect.
Seniors should be addressed as either "Sir", "Ma'am" or Mr/Mrs/Ms
Always use their last name or title, never their first name unless expressly invited to do so
Bow when approaching the senior prior to making contact
Always use appropriate language, and particularly no profanities
Try not to ever turn your back on the senior. When leaving take three steps backwards, execute a bow, then turn and depart
When a senior enters the room, always stand up and bow,
When giving or receiving an item, remember to always use two hands and perform a bow of respect
Remember to say "Thank you Sir / Ma'am" and "Yes Sir / No Ma'am"
A junior may disagree with their senior as long as they do so respectfully and politely
It is impolite to interrupt a senior; instead, raise your hand to indicate your desire to speak
Open and hold all doors for seniors, including the car door
If the senior is carrying something in their hands or arms, politely offer to take it and carry it for them
When seated, such as during a class, seminar or tournament, avoid showing the bottoms of your feet to your seniors
Avoid asking for opinions or impressions from a senior, especially when in a public setting
In social situations it is the responsibility of the senior to make sure that the juniors are taken care of and comfortable
---
When Travelling in a Motor Vehicle:
The highest-ranked individual enters the vehicle first, followed by the others in order of rank.
If there is a professional chauffeur: The individual with the highest rank sits in the back seat behind the front passenger seat. The host or the interpreter sits in the front passenger seat. On arrival the chauffeur disembarks first and opens the door for the highest-ranking individual. The other passengers leave the vehicle in order of rank.
If there is no professional chauffeur: The individual with the highest rank sits in the front passenger seat. The others sit in the back seat, with the highest-ranked sitting behind the front passenger seat and the rest toward the other side in order of rank. The rank of the driver is not taken into consideration. On arrival the lowest ranked passenger disembarks first and opens the door for the highest-ranking individual. The other passengers leave the vehicle in order of rank.
Protocol
|
Bowing
|
Interacting with Seniors
|
Dining
|
Greeting & Departing
|
Uniform & Belt
---
Always wait for the Senior to be seated first
The Senior should sit at the head of the table with their companion or guest next to them
The host should always sit beside the senior
All others (and their companions or guests) are seated alternately to each side of the senior according to rank
Spouses or companions are always welcome to sit by your side, regardless of whether they are in Taekwon-Do or not
Patiently wait for the senior to open their menu and place their order first
Once the beverages or food have arrived, allow the senior to take the first drink or taste of their food
When making or receiving a toast, ensure your cup is lower than your senior's, and always use two hands (like when shaking hands)
The senior should never pour his/her own drink; the junior should pour it for them.
Juniors should fill a senior's glass whenever it is low, especially prior to taking more beverage for themself
If the senior needs something it is the junior's responsibility to attend to it
Always ask permission to leave or approach the table
Whenever a senior approaches or departs the table you should stand up
Use good table manners, e.g. do not slouch or place elbows on the table
Protocol
|
Bowing
|
Interacting with Seniors
|
Dining
|
Greeting & Departing
|
Uniform & Belt
---
Juniors should not offer their hand to the senior - wait for them to present theirs first
Shake hands using your right hand while placing your left hand under the right elbow with your palm facing down
Perform a bow of respect whenever you shake hands
For very personal greetings, some seniors may shake your hand using both of theirs, by grasping your hand and placing their other one on top of both your hands
For a very formal or very respectful handshake, place your left hand directly under your right elbow.
The further your Ieft hand is from your right, the more respect you show to the senior
Protocol
|
Bowing
|
Interacting with Seniors
|
Dining
|
Greeting & Departing
|
Uniform & Belt
---
Uniform should be clean and pressed at all times
Uniforms should be worn only while training or competing; not as casual wear
Belts should never touch, be dropped or placed on the floor
When adjusting your uniform or belt, turn to the side so as not to face the senior or turn your back on them
It is considered extremely rude to touch a senior's belt or uniform
Avoid "playing" with your belt or uniform
No jewellery should be worn while you are in your dobok
Hats should not be worn when wearing a dobok