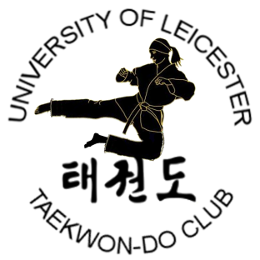 University of Leicester Taekwon-Do Club
TKD THEORY:
The Fundamentals

---
What is Taekwon-Do?
Taekwon-Do is the scientific use of the body in the method of self-defence; a body that has gained the ultimate use of its facilities through intensive physical and mental training.
---
Composition of Taekwon-Do (
Taekwon-Do Goosong

)

Fundamental movements - Patterns - Sparring - Conditioning - Self-defence techniques
---
Meaning of Taekwon-Do
| | | | |
| --- | --- | --- | --- |
| 태 | Tae | - | stands for jumping or flying, to kick or smash with the foot. |
| 권 | Kwon | - | denotes the fist - chiefly to punch or destroy with the hand or fist. |
| 도 | Do | - | means an art or way - the right way built and paved by the saints and sages in the past. |
---
Thus taken collectively, Taekwon-Do indicates the mental training and the techniques of unarmed combat for self-defence as well as health, involving the skilled application of punches, kicks, blocks and dodges with bare hands and feet to the rapid destruction of the moving opponent or opponents.
---
About Taekwon-Do
Taekwon-Do was founded by General Choi Hong Hi, IX degree
Taekwon-Do was given its name on April 11th, 1955
The International Taekwon-Do Federation (ITF) was founded on March 22, 1966
General Choi was born on November 9th, 1918, and died on June 15th, 2002
Taekwon-Do was introduced into the United Kingdom by Rhee Ki Ha in 1967
The World Taekwon-Do Federation (WTF) was established May 28, 1973
---
Il - The Significance of One
Il Kyok Pil Sung

- Achieve victory in a single blow (literally One Strike Certain Victory).

Il Pyon Dan Shim

- Serve one Master with unshakable loyalty.

Oh Do Il Kwan

- Pursue one goal whatsoever, once it is determined.