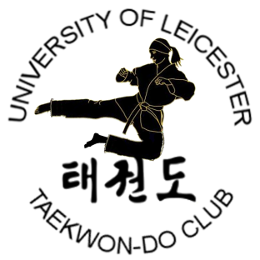 University of Leicester Taekwon-Do Club
ITF DOBOK

---
The curent style of ITF dobok was introduced in 1982, and has variations depending on rank:
kup grades (colour belts) wear a plain white dobok;
dan grades (black belts) add a 3cm wide black strip to the bottom edge of the shirt;
4th degrees and above holding an International Instructor's Certificate (IIC) are indicated by a 3cm wide black stripe running down the middle of each arm and leg.
The dobok itself carries the ITF Tree logo on the back, the ITF badge on the front left, and may also have a club or organisation logo on the front right. Some ITF organisations also adorn their dobok with shoulder patches to signify rank.
A further variation introduced by ITF-V is to mark Master & Grandmasters (VII Degree upwards) with a 1cm white stripe down the middle of the black stripes, giving the appearance of two black stripes. They have also proposed that 4th degrees and above who are not qualified as International Instructors should have the black stripe on the outside of the trouser legs, but not the sleeves.
---
Kup grades

Dan grades

International Instructor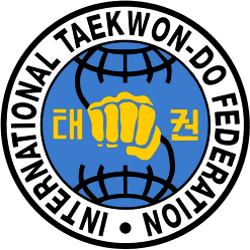 The ITF logo was designed by Kim Joong Keun in 1965/6.
The logo of the ITF consists of a blue circle containing two half-circles, one on the top and one on the bottom. The top circle represents heaven and the bottom circle represents earth. In between these two there is the image of a fist with "Tae" and "Kwon" in Korean on either side of it. A bi-curved line connects heaven to earth through the fist (symbolising the joining of heaven and earth through Taekwon-Do), and splits the larger blue circle into two in the fashion of the eum-yang (the Korean symbol also known in Chinese as yin-yang). Around this image we have International Taekwon-Do Federation written in English.
Alternatively:
The center line of the ITF logo in the shape of an "S" represents the South Korean flag. The half circle at the top and the half circle at the bottom represents the North and South Poles with the intersecting lines representing the Longitude and Latitude markers. Tae at the left center of the logo represents the Atlantic Ocean, the fist in the center represents the Indian Ocean, and Kwon on the center right, represents the Pacific Ocean. The Arctic and The Antarctic are separated by the two half circles The blue color represents the United Nations and the desire for World Peace. The lettering around the outside of the logo are in the form of a gear, gears working together, moving forward.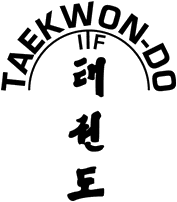 The ITF tree logo was designed by Choi Chang Keun in 1980. It represents an evergreen tree, symbolising long life in TKD, and is drooped at the edges in such a way as to remind the student of humility.
Assistant Instructor
(Boo sabum)
1st-3rd Degree

Instructor
(Sabum)
4th-6th Degree

Master
(Sahyun)
7th-8th Degree

Grandmaster
(Saseong)
9th Degree
---
Some ITF schools have added a fifth shoulder patch to distinguish between 7th & 8th degree Masters:
Assistant Instructor
(Boo sabum)
1st-3rd Degree

Instructor
(Sabum)
4th-6th Degree

Master
(Sahyun)
7th Degree

Senior Master
(Sonim Sahyun)
8th Degree

Grandmaster
(Saseong)
9th Degree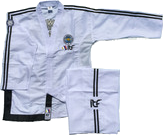 Master Dobok (7th - 9th degree)
<!- http://www.sportique.co.uk/acatalog/ITF_Epaulettes.html ->