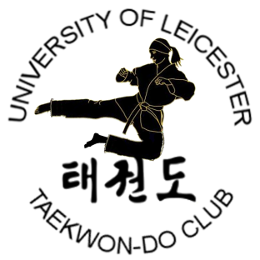 University of Leicester Taekwon-Do Club
PREARRANGED SPARRING
(
Yaksok Matsogi

)

---
Prearranged sparring is a set of exercises where the number, and sometimes sequence, of moves is determined beforehand, allowing the student to practice attack and defence techniques in a more controlled environment. There are three sets of prearranged sparring: three step (sambo matsogi) for beginners, two step (ibo matsogi) for more advanced students, and one step (ilbo matsogi) for senior grades.
---
THREE STEP SPARRING (
Sambo Matsogi

)

Three step sparring can be fixed or semi-free depending on the level of the student. In three step, the attacker begins in walking stance with a low outer forearm block, with the defender in parallel ready stance. Three step sparring is primarily intended to teach beginners the basic techniques, with particular focus on:
proper distance
correct facing & positioning
forearm conditioning
correct blocks
correct stances
counter attacks
timing
control
co-ordination
---
TWO STEP SPARRING (
Ibo Matsogi

)

Two step sparring is designed for the intermediate student to learn more advanced techniques, developing the same attributes as for three step, but with more varied attacks, thus allowing the student to develop and practice defending against various combinations. Two step is usually only carried out as prearranged sparring. For two step, the attacker begins in L-stance forearm guarding block, with the defender in parallel ready stance.
---
ONE STEP SPARRING (
Ilbo Matsogi

)

One step sparring is usually performed semi-free where the defender has no set movements; the student is free to use any defence and counter they feel comfortable with. For one step, both participants start facing each other in parallel ready stance.
---
CALL AND RESPONSE
An important part of prearranged and semi-free sparring is ensuring the the defender is ready to receive the attack. Thus, before starting, the attacker will indicate that they are ready with a kihap. The defender will respond to indicate that they are ready, then the exercise begins as the attacker moves forward. Please note that the attacker may start as soon as the defender kihaps in response; make sure you are ready before you do!